Secure and simple
Samsung Pay is a secure and simple way to make mobile payments with select Samsung Galaxy phones1:
Use your eligible HSBC credit or debit card with Samsung Pay to make payments in-store, wherever you see the contactless payment symbol.
You'll need to download Samsung Pay from the Samsung Galaxy Apps Store on a compatible device and add your HSBC credit or debit card.
Samsung Pay is available on Samsung Galaxy S8 and S8+, Gear S3, S7 and S7 edge, S6, S6 edge and S6 edge+2, A3 and A5 2017.
1. Download Samsung Pay* from the Galaxy Apps Store
2. Scan your fingerprint or iris and enter a PIN, so you can authenticate future purchases
3. Scan your HSBC credit or debit card information, or enter the details manually
4. Verify your card with a 6-digit one-time passcode
Once you've verified your card with a 6-digit one-time passcode you'll receive by SMS or email, you're ready to make contactless payments on the go!
*Some of these links may allow you to access non-HSBC websites. HSBC Bank plc has no control over the linked websites and is not liable for the use of it.
How to pay
In-store
Simply swipe up on the screen and hold the device near the contactless reader with your finger on the fingerprint scanner to make a payment.
You can also use the iris scanner (on Samsung Galaxy S8 and S8+ devices) or Samsung Pay PIN to authenticate the payment.

In app
To pay within participating apps, select the "Samsung Pay" button in the merchant app screen at checkout and use either fingerprint, iris scanner (on Samsung Galaxy S8 and S8+ devices) or Samsung Pay PIN.
Most HSBC credit and debit cards are eligible for Samsung Pay, subject to status.

Samsung and Samsung Pay are trade marks or registered trademarks of Samsung Electronics Co., Ltd. Use only in accordance with the law.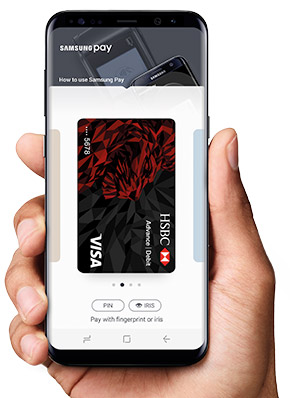 Have questions about Samsung Pay?
Please contact us on 03456 00 61 61*.
*Lines are open 8am to 10pm every day except for Christmas Day, Boxing Day and New Year's Day. Calls may be monitored or recorded.
Frequently Asked Questions
What is Samsung Pay and what are the compatible devices?
How is my default payment card in Samsung Pay determined?
What is a transport card?
Is Samsung Pay free and safe to use?
I've been prompted for a one-time passcode when adding a card to Samsung Pay. What is this and why is it required?
Where can I use Samsung Pay and how many cards can I add?
Do I need to have an active internet connection for Samsung Pay to work?
How do I make in-store purchases with Samsung Pay?
How do I return a purchase I made through Samsung Pay?
What should I do if I lose my device or my card?
What happens when I replace or update my device?