Explore the difference that accelerated lending application processes and priority consideration can make. By providing extraordinary service and working closely with you to develop a deep understanding of what you need, we can support you wherever you are in the world.

Your Jade by HSBC Premier Debit and Membership Card combined
Enjoy the benefits of your very own Jade by HSBC Premier Debit Card which also acts as your Jade membership card. Use the card and Jade membership ID (displayed on the reverse of your card) to unlock unrivalled experiences, support from our most qualified experts and specialised products and pricing.
Enjoy the convenience of using your Jade by HSBC Premier Debit Card wherever you go in the world.

Use your card to withdraw from ATMs across the globe.

A safe and secure way to spend your money.

Enjoy the ease with Apple and Google Pay with your new Jade Debit Card.

Access Ten Group and other lifestyle benefits with your membership ID.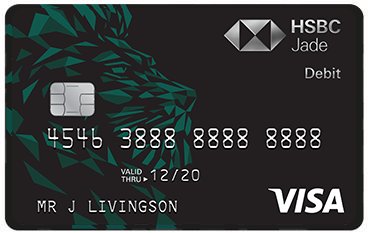 Enhanced level of Worldwide Travel Insurance
Your Jade membership comes with complimentary travel insurance with extended cover until you reach age 80. Other Jade member exclusive Worldwide Travel Insurance benefits include:

Cover for cancellation and curtailment up to £10,000 (increased from £7,500)

Baggage and Personal belongings cover up to £5,000 (increased from £2,500)

Cover for children* when travelling independently from the account holder

Cover for Grandchildren* when accompanied by you or your partner
* Children and grandchildren must be under 23 at the start date of the trip.

Worldwide Travel Insurance is underwritten by Aviva Insurance Limited. Policy terms and conditions apply.
To be eligible you must be under the age of 80 on the start date of your trip and meet the following eligibility criteria. To be covered, you must be a Channel Islands or Isle of Man resident and you must be registered with a doctor in the UK, Channel Islands or Isle of Man.

Take a look at your policy wording on www.ciiom.hsbc.com/legal to find out more about your 'HSBC Jade Worldwide Travel Insurance'.
If you are an existing customer and require confirmation of your travel insurance policy you can request it online from Aviva here.
Refund of the annual fee on our HSBC Premier World Elite™ MasterCard®
Travelling the world and experiencing new places and cultures can be so rewarding. Now we'd like to help you get even more from your travels and stay connected to the people that matter the most. There's also a suite of extra benefits to help make your life a little more comfortable, both at home and away:

Complimentary Airport Lounge Access:

Whether travelling for business or leisure, relax and enjoy access to over 500 Airport Lounges around the world - brought to you by LoungeKey*

Global Wi-Fi:

Take advantage of access to more than 50million Wi-Fi hotspots globally - brought to you by iPass*

HSBC Premier Rewards Programme:

Earning you points whenever you spend and including our Rewards for Miles scheme.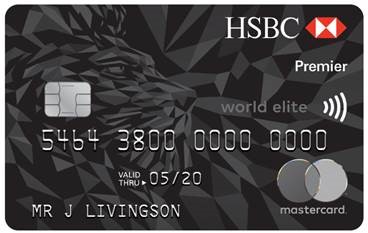 Priority service for your lending requirements
We offer you exclusive priority consideration1 over your unsecured lending requests, which will be individually managed by our lending specialist team. Providing you with the peace of mind that your lending requests will receive our utmost level of attention at all times whilst being case managed.
1 Priority consideration for overdraft and Personal Loan requests over £25,000, compared to all HSBC customers including HSBC Premier Bank Account holders.
Our best preferential2 HSBC customer overdraft interest rate
With no overdraft interest on the first £500 of the limit, and 9.9% EAR (fixed) for overdraft borrowing above this limit.
A specialist team will manage your overdraft requests over £25,000 as a priority request over all other HSBC customers.
For overdraft interest rate charges please refer to the Personal Banking Terms and Conditions and Charges.
2Preferential interest rate compared to customers holding an HSBC Premier Bank Account, HSBC Advance Bank Account, HSBC Bank Account or an HSBC Bank Account Pay Monthly.
Representative example
Assumed limit £1,200: 0% EAR (variable) on the first £1,000, 9.9% EAR (variable) thereafter, giving a representative rate of 1.6% APR (variable).

All requests for an HSBC overdraft are subject to your credit status.
Monthly cap on unarranged overdraft charges (effective from 1 August 2017)
Each current account will set a monthly maximum charge for:

going overdrawn when you have not arranged an overdraft; or
going over/past your arranged overdraft limit (if you have one).

This cap covers any:

interest for going over/past your arranged overdraft limit;
interest for each payment your bank allows despite lack of funds; and
charges for each payment your bank refuses due to lack of funds.
The monthly cap on unarranged overdraft charges for the Jade by HSBC Premier Bank Account is £20.
For Jade by HSBC Premier Bank Accounts we may agree a high unarranged overdraft balance at your request to ensure larger payments are made.
The introduction of the Monthly Maximum Charge will not affect any charging period that ended prior to 1st August 2017. Any notification of charges that are generated on or after 1st August 2017 will incorporate the new Monthly Maximum Charge cap.
Further details, including the level of the monthly cap applicable to each account, can be found online at https://ciiom.hsbc.com/current-accounts/overdrafts/.
HSBC Premier Personal Loans - priority consideration and exclusive access to higher Personal Loan limits
As a Jade member you will receive:
Priority consideration over unsecured lending needs managed by our lending specialist team.

Exclusive access to Personal Loans up to £250,0001.
1 Other Non-HSBC Premier customers have access to Personal Loans up to £25,000.
Is Touch ID / Face ID / Fingerprint ID safe?
Jade members can receive a representative 6.4% APR for loans between £25,010 and £250,000.
Representative Example:

Original Loan Amount
Based on
Interest Rate
Monthly repayment
Total amount payable
Term
£100,000
6.4% APR
representative
6.4% p.a.
(fixed)
£1,471.41
£123,598.10
7 Years
(84 months)
Representative Example:

Original Loan Amount
£100,000
Based on
6.4% APR
representative
Interest Rate
6.4% p.a.
(fixed)
Monthly repayment
£1,471.41
Total amount payable
£123,598.10
Term
7 Years
(84 months)
All credit applications are subject to status, our lending criteria and an assessment of the circumstances of the applicant.
Preferential call response time
As an HSBC Premier customer you already have access to our Channel Island based HSBC Premier telephone banking service, and your Jade membership ensures when you contact us your call will be treated as a priority.
Contact us on 03456 006 161.
Our 24-hour telephone banking is subject to scheduled maintenance periods. Lines are open 24 hours, 365 days a year. To help us continually improve our service, and in the interests of security, we may monitor and/or record your communications with us.